WILLIAMWOOD PARISH CHURCH

General Info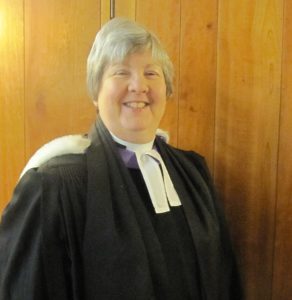 Minister: Rev. Janet Mathieson
Contact: 01415799997  JMathieson@churchofscotland.org.uk
Scottish Charity Number SC009939
Ways to offer help for Ukraine
Monthly Newsletters
To access the most recent Newsletter please use the link below.
To access previous newsletters click HERE
Prayer Circle
This is a confidential group of seventeen people who will pray for a person or a situation when it is requested.  Lorna Martin and Anne Clark can be contacted by phone or you can e-mail the minister using the contact information on the website.
Format of Sunday Services
Worship at Williamwood is at 11.00 every Sunday morning and other times as announced. The format of worship is traditional and we use CH4 and the Good News Bible. The choir lead our singing and contribute to worship with a range of anthems, both traditional and modern. 
You can also watch our service live on Zoom.  If you are not already on our mailing list you can contact Evelyn Wallace or the minister.  
Flowers in the Church
There is a flower calendar in the vestibule of the Church and if you would like to donate flowers for the chancel please add your name to it.
There are flowers in a vase in the chancel every Sunday.  They are delivered every week to those who need our thoughts or best wishes on behalf of the members of Williamwood
Hall Enquiries
We are very fortunate that our halls are frequently in use. If you would like to enquire about using our halls please contact Fiona Gunning using the contact information on the website.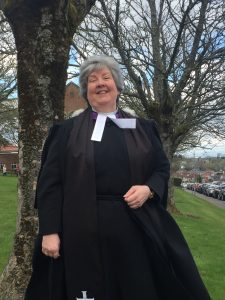 Jan was called to Williamwood in November 2015.
She is active in all areas of the Church, its organisations and its people
General Assembly Special Supplement
Life and Work has once again published a FREE four page General Assembly Special Supplement for 2023 summarising some of the key decisions, debates and speeches.  This can be accessed by clicking the link here. general-assembly-2023-supplement
Please click the link above for information on how to access Zoom Including by Phone
If you cant get to Church, or live further afield, you can join us on ZOOM for the live service at  11.00am.  If you are on our e-mail list you will receive a weekly invitation a couple of days before along with the link and password.  If you are not on our e-mail list but would like to join the service please contact Evelyn Wallace or the minister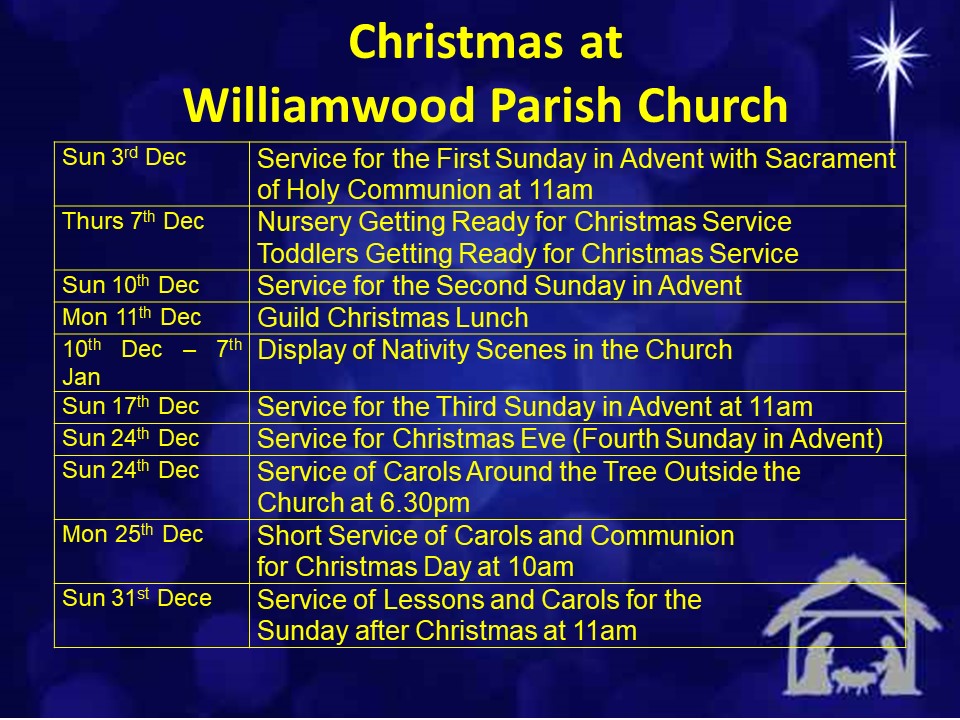 Williamwood Parish Church is a very busy and active part of the community.  We strive to ensure that our Church and halls are used to their full potential.  
Weekly worship on a Sunday morning is of course always at the heart of the life of our Church and we continually strive to move forward into a bright future.
There can be lots going on so keep an eye on the website for information.
For Further information on the History of Williamwood follow this link
Some members of The Kirk Session
Kirk Session members are the elders of the Church and are chosen from those members of the Church who are considered to have the appropriate gifts and skills to pursue the spiritual affairs of the Congregation. The Kirk Session meets regularly on the 3rd Wednesday of January, March, May, September and November.  Additional meetings may be called for specific purposes.

The Congregational Board
Here are some of the board members who are appointed from within the Congregation.   Board Members are nominated and then appointed at the Stated Annual Meeting and serve for a period of three years after which they may seek re-election. They contribute to the management affairs of the Church.  Board Meetings are February, April, June, October and December
WEDDINGS
Williamwood Church may be the place that you choose to get married.  We have prepared a leaflet to give you the basic information and the contact details of the people you need to get in touch with as you plan your special day.
BAPTISMS
If you are thinking about having your baby baptised, please contact Rev Jan Mathieson on 0141 579 9997.
PICTURE GALLERY   2021 / 2022
Links to the Wider Church
Location
Williamwood Parish Church – 4 Vardar Avenue, Clarkston, G76 7QP
Sunday Services
Sunday Service  –  11.00am
Sunday School  –  10.50am
Whats happening in our Wider Community?
Click to see
Sundays
10.50am – SUNDAY SCHOOL
11.00am – WORSHIP
MONDAYS
7.30am – 9.00am  –  OSCARE PRE-SCHOOL
9.00am – 3.00pm  –   CLARKSTON NURSERY GROUP
3.00pm – 6.00pm – OSCARE AFTER-SCHOOL
5.00pm – 6.00pm – SHIROKAWA KARATE ACADEMY
7.00pm – WILLIAMWOOD PIPE BAND
TuesdayS
7.30am – 9.00am  –  OSCARE PRE-SCHOOL
9.00am – 3.00pm  –   CLARKSTON NURSERY GROUP
2.00pm – 4.00pm – THE GUILD (Alternate Tuesdays in the sanctuary)
3.00pm – 6.00pm  –   OSCARE AFTER-SCHOOL
4.45pm – 9.30pm  –  McCARTHY SCHOOL OF DANCE
WednesdayS
7.30am – 9.00am  –  OSCARE PRE-SCHOOL
9.00am – 3.00pm  –   CLARKSTON NURSERY GROUP
9.15am – 12.30pm  –  MUSIC BUS GLASGOW SOUTH
3.00pm – 6.00pm  –   OSCARE AFTER-SCHOOL
6.30pm – 7.45pm  –  3rd WILLIAMWOOD BROWNIES
ThursdayS
7.30am – 9.00am  –  OSCARE PRE-SCHOOL
9.00am – 3.00pm  –   CLARKSTON NURSERY GROUP
9.45am – 11.45am  –  WILLIAMWOOD TODDLERS (In the Session House)
3.00pm – 6.00pm  –   OSCARE AFTER-SCHOOL
6.00pm – 10.00pm –  79TH GLASGOW SCOUTS
7.30pm  –  CHURCH CHOIR (Session House)
FridayS
7.30am – 9.00am  –  OSCARE PRE-SCHOOL
9.00am – 3.00pm  –   CLARKSTON NURSERY GROUP
3.00pm – 6.00pm  –   OSCARE AFTER-SCHOOL
6.30pm – 7.30pm  –  128th BB ANCHOR BOYS
6.30pm – 8.00pm – 128th BB JUNIOR SECTION
7.45pm  –  128th BB COMPANY SECTION
SaturdayS
9.00am – 6.00pm  –  McCARTHY SCHOOL OF DANCE
To see the archive of previous photographs just follow this link
Our Mission
Our mission is to share the love of God through worship, outreach, welcome and care with people in our local community and across the world