CHURCH OF SCOTLAND - WILLIAMWOOD PARISH CHURCH
Worship, Socialise and Grow with us into the Future

General Info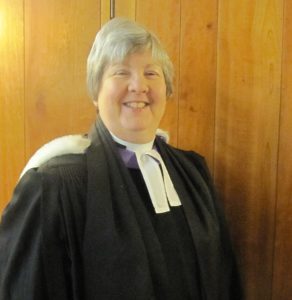 Minister: Rev. Janet Mathieson
Scottish Charity Number SC009939

Williamwood Church Short Sunday Service
JOIN US ON ZOOM EVERY SUNDAY FOR THE LIVE SERVICE AT 11.00AM
If you are on our e-mail list you will receive a weekly invitation a couple of days before along with the link and password
If you are not on our e-mail list but would like to join the service please contact Evelyn Wallace using the contact forms on the Website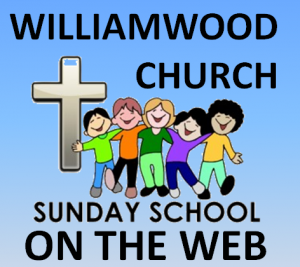 Our Sunday School begins again with a service in the Church on Sunday 23rd August which you can also access on Zoom.
Every Sunday after that we'll meet from 10-10.20am via Zoom
Sunday School leaders will be there and have stories; music; activities and prayers all ready.
Please join us – and tell your friends too. All are welcome
Contact Maureen if you need the Zoom link.
Please click the link above for information on how to access Zoom Including by Phone
East Renfrewshire Culture and Leisure
East Reffrewshire culture and Leisure's  own instructors are making short videos to keep you connected and active while at home. To access these videos and for information please click the link below
ADVICE FOR CHURCHES COVID-19 (CORONAVIRUS)
INFORMATION CAN BE FOUND BY FOLLOWING

THIS LINK
Inspire Magazine
During the current lock down conditions we are not producing our usual Inspire magazines.  An online Bulletin is published instead and can be found on the home page and our Facebook page.  Elders can print out and deliver paper copies if you wish.  
Prayer Circle
This is a confidential group of seventeen people who will pray for a person or a situation when it is requested.  Lorna Martin and Anne Clark can be contacted by phone or you can e-mail the minister using the contact information on the website.
Format of Sunday Services
Worship at Williamwood is at 11.00 every Sunday morning and other times as announced. The format of worship is traditional and we use CH4 and the Good News Bible. The choir lead our singing and contribute to worship with a range of anthems, both traditional and modern.
Dates for Your Diary
Please see the Yellow notices on the webpage for information at the moment.
Hall Enquiries
we are very fortunate that our halls are frequently in use. If you would like to enquire about using our halls please contact Fiona Gunning using the contact information below.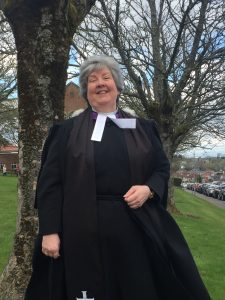 Jan was called to Williamwood in November 2015.
She is active in all areas of the Church, its organisations and its people
 Welcome 

To Williamwood Parish Church on the Web
We are pleased to have our church building open again for Sunday worship- and our bells will remind us of that each Sunday just before 11am.
As the bells ring out you are invited to worship.
Numbers in our building  are limited in line with Scottish Government and Church or Scotland guidelines so we are pleased that our services will continue to be available via Zoom. (Use the contact box to ask for an zoom link if you don't already get one)
We're really grateful to all the folks who have worked so hard to get our building ready and to enable our worship to be accessed on line.
(if you are coming into the building we ask you to wear a face-covering and observe the hygiene and other protocols which are in place and which will be pointed out as you arrive)
We've learned a lot in recent months: most importantly that the Church gathers to worship in a building but in other places too and our Church is the people of God living out the values and the love of Jesus.
At Williamwood we are a parish Church, serving our local community and the world beyond. We are here for everyone, whether you are a member or not, so if you need any help, support or just a chat please contact us and we'll do what we can to help. 
If you'd like to join us as a member or at worship or in our activities we'd be delighted to have you. Please let us know.
May each and all know God's blessing upon you
 Rev Jan Mathieson          
In September – we will operate a rota system for those who have indicated to their elder they would like to attend worship in the church building. If you don't have an elder and would like to come please use the contact form on this page to get in touch.
Prayers from the Sunday Service on 20th Septemeber
Call:     Jesus said –    I give you a new commandment, love one another.
Let us pray
Almighty and everlasting God, with glad and grateful hearts, we worship you.
Your love embraces the whole human race, your love continues, without change, the same, yesterday, today and tomorrow.
We praise you that your love was shown uniquely and perfectly in the life, death and resurrection of Jesus Christ.
May the memory of his life make us eager to follow his steps, may the memory of his death inspire us to be sacrificial in our giving, and may the memory of his glorious resurrection be a cause of thanksgiving for your love and the hope of life everlasting.
All you need is love …says the song; all you need to show is love said Jesus. But love is not always easy for us as individuals.
Folk act in unloving ways towards us they try to steal or destroy our property. They seek to take away our good name by what they do or say they do not always agree with our view of the world.
Sometimes, we too are guilty of lacking in love when we gossip about others, when we fail to forgive, when we think we are being treated unfairly, when we cannot see the other person's point of view.
Purge our souls, O God, from all sinful thoughts. Drain our hearts, Lord Christ, of all bitter feeling. Blow cool winds through the heat of our desires, Holy Spirit, that we may be made new, cleansed and refreshed, and better able to serve you, O God, in the days to come.
O God, your love is so wide, that it falls equally on the good and evil, your love is so strong, that there is nothing it cannot overcome.  Your love is so deep, it plumbs the depths of anyone's heart. So, by that same love, strengthen us to withstand any temptation, comfort us to make us know we are not alone, and hold us, that we might stand firm when we are in danger of collapse.
Heavenly Father, your providence includes even the sparrows; your love provides food even for the ravens so free us from the fear that you do not care what happens to us, in this world or in the next and increase our confidence in your love, that we in turn might be able to show that love to all with whom we come in contact that same love, which in Jesus Christ our Lord, reached out to save us.
And to you, O God, Father, Son and Holy Spirit be glory and praise, for ever and ever AMEN
Thanksgiving and others
Out of love, Lord God, you created this universe in which we live and move and have our being. You gave us nature to enjoy and sustain our lives. You gave us fellow humans that we might know what love is the love that is given and the love that is received. You gave family life that children may grow up and know they are loved. But that love for us was seen most supremely in Jesus Christ whose love shown to others was an example for us to follow whose love for you was seen in his obedience to your will, his willingness to die on the cross for us.
Whose love for us was seen through the eyes of a resurrection faith, which means life for us, not only here, but beyond the grave.
All praise and thanksgiving be to you our God and to the Lamb that was slain, that same Jesus Christ our Lord. O God, fountain of all good. Help us to offer to you the love of our hearts and that love shown in service to others. May your favour, which is life, and your living kindness, which is better than life, be upon us all now and always.
O merciful God, as we begin to pray for others, may we have complete confidence in your love and desire to help… to heal and to save.
We pray for those for whom love seems to have vanished, who have lost the one they loved through death, or change of heart …or change of circumstances. By your Holy Spirit, may they know the nearness of your love for them in their grief.
We pray for those who seek love. Those who long to know the peace and security love brings, those who offer love… but whose love is spurned or rejected, those whose love is unrealistic, a love which seeks to control or makes impossible demands on the beloved.
We pray for those who have never known love. Whose experience of others is of cruelty and bitterness, whose experience of others is of fear and manipulation. Who are frightened to love for fear of being hurt, and we pray for those who cannot love, those with learning difficulties who cannot know what it is to be loved or to love others, those whose lives are so emotionally destroyed by others that the light of love has been extinguished forever.
O God of Love, hear our prayers for those who need love. May we remember the commandment to love one another…just as Christ has loved and still loves us.
We pray for needs known to us – for this church as we come to the end of a holiday season like no other, for this congregation as they have to cope with minimal church attendance, for all the elders as they care for the people and the office-bearers who seek to keep the church running in this time of plague, all leaders in our organisations who cannot meet that they may keep in touch with their members, for our minister on holiday that Jan might come home refreshed in body mind and spirit to face the difficulties in the church at this time, and for the membership of our congregation and all who seek to support its work in any way that they may be led by Christ at this difficult time.
We pray for our parliaments in Holyrood and Westminster that you might guide its work particularly at this difficult time that in the difficult decisions over the pandemic you might give them vision and inspiration for the way ahead.
We pray for our church… for the work of the Church of Scotland, not just here in Scotland, but across the world.
All who work in the offices of the church, in homes and hostels, those who serve as chaplains in the armed forces, or who serve in hospital, industry and prisons, all who work in our local churches, those who minister to the various flocks of Scotland, and any who help in whatever way to make the work of the church run smoothly and thus Christ's love is shown to others.
We pray for our world in need of love, for the rise in racism and the need to love our neighbours. For the continual chasing after things and the neglect of the Lord
And any finally we pray for any who need the love of Christ and his healing of body, mind and spirit this day…remembering those who have been ill in hospital and all others laid low at this time, the bereaved… remembering those known to us who have lost love recently and think … especially of those who are quite ill, those who are having treatment in hospital, those who await surgery, those who are anxious for a loved one, those who may be tempted to stray from the right road in life, those who can find no peace in their life, and any whose names we know and whom we love greatly … and who are in need of your help today……..
Lord Christ, you knew family life in Nazareth.
Bless our homes and families this day.
Be with young children as they grow that they may know of your love with teenagers as they develop a different view of family love that they might come to know of your love for them.  Be with all parents and grown-ups as they that they may love one another and the children under their care….and be with the elderly that their love may not falter or fail …even if their bodies do.
Almighty God you kindle the fire of your love in hearts of the saints of every age; may we too feel that same warmth of love that produces good words and good deeds and fits us for everlasting life; through Jesus Christ our Lord, to whom with you and the Holy Spirit be glory and praise, world without end.  Amen
For Information about Williamwood Parish Church Harvest Thanksgiving 2020
Thank you for all of your pictures over the past few weeks.
We are so pleased to be sharing the final product with you here – Enjoy!
Music- The Lord's My Shepherd (Stuart Townsend)
Sarah Alexander- Piano
Kerry Alexander- Violin
Emma Alexander- Viola
Special thanks to Marc McMillan for putting the audio together.
And thanks to all of you for sending your photos in!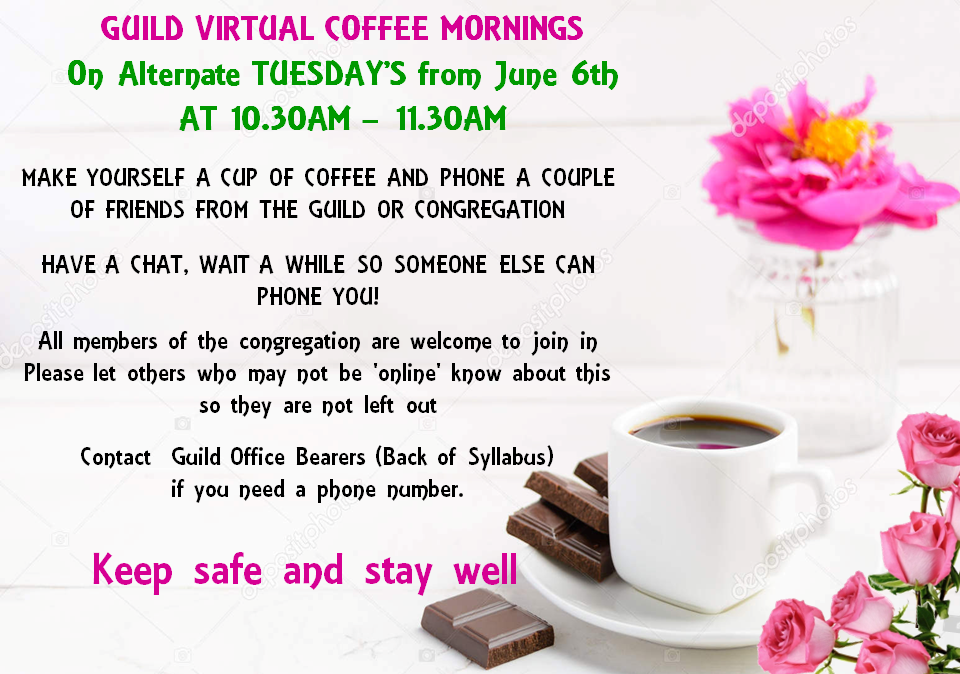 Williamwood Parish Church
is a very busy and active part of the community.  We strive to ensure that our Church and halls are used to their full potential.  We have just come to the end of our year long 80th Anniversary Celebrations, where we had several social events which were enjoyed by all.  A state of the art new heating system has just been installed and are now looking at other ways to increase the buildings energy efficiency as well as  improve and maintain the buildings.
Weekly worship on a Sunday morning is of course always at the heart of the life of our Church and we continually strive to move forward into a bright future. Throughout the church year there are special services when we celebrate particular occasions.  The main celebrations of Communion in Williamwood are on the first Sunday of March, June, September and December.  Additional communion services may be held, for example at Easter. There can be lots going on especially over the Christmas period so keep an eye on the website for information.
For Further information on the History of Williamwood follow this link
Some members of The Kirk Session
Kirk Session members are the elders of the Church and are chosen from those members of the Church who are considered to have the appropriate gifts and skills to pursue the spiritual affairs of the Congregation. The Kirk Session meets regularly on the 3rd Wednesday of January, March, May, September and November.  Additional meetings may be called for specific purposes.

The Congregational Board
Here are some of the board members who are appointed from within the Congregation.   Board Members are nominated and then appointed at the Stated Annual Meeting and serve for a period of three years after which they may seek re-election. They contribute to the management affairs of the Church.  Board Meetings are February, April, June, October and December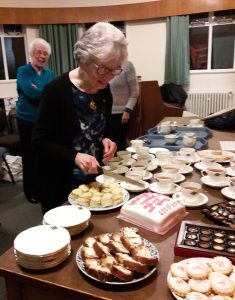 Norah Gray Retires
The Church choir recently spent a very pleasant evening on the occasion of Norah Gray's retiral. The minister and session clerk were present when the choir said a very reluctant farewell to Norah after 60 years.
Norah's name meant music in Williamwood. She was always there to sing solos, play the organ, and take choir practices when we were without an organist and, if any musical event was to be held, Norah was the first one to be consulted.
Norah will be greatly missed by the choir but we know that, Sunday by Sunday, she will be in the church supporting us.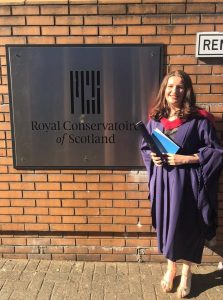 Congratulations
Many congratulations to our organist Sarah Alexander on receiving her degree of Bachelor of Music with Honours from the Royal Conservatoire of Scotland on Thursday- what an achievement!
WEDDINGS
Williamwood Church may be the place that you choose to get married.  We have prepared a leaflet to give you the basic information and the contact details of the people you need to get in touch with as you plan your special day.
BAPTISMS
If you are thinking about having your baby baptised, please contact Rev Jan Mathieson on 0141 579 9997.
PICTURE GALLERY  2019 – 2020
Location
Williamwood Parish Church – 4 Vardar Avenue, Clarkston, G76 7QP
Sunday Services
Sunday Service  –  11.00am
Sunday School  –  10.50am
Phone & Email
Minister – Rev. Mathieson  01415799997  JMathieson@churchofscotland.org.uk
Website   www.williamwoodparishchurch.org.uk
Sundays
10.50am – SUNDAY SHCOOL
11.00am – WORSHIP
MONDAYS
7.00am – 9.00am  –  OSCARE PRE-SCHOOL
9.00am – 1.30pm  –   CLARKSTON NURSERY GROUP
3.00pm – 6.00pm  –   OSCARE AFTER-SCHOOL
5.00pm – 6.00pm – SHIROKAWA KARATE ACADEMY
6.45pm – 8.30pm –  128th JUNIOR SECTION 
7.00pm – WILLIAMWOOD PIPE BAND
TuesdayS
7.00am – 9.00am  –  OSCARE PRE-SCHOOL
9.00am – 1.30pm  –   CLARKSTON NURSERY GROUP
3.00pm – 6.00pm  –   OSCARE AFTER-SCHOOL
4.20pm – 9.00pm  –  McCARTHY SCHOOL OF DANCE
7.30pm  –   (Alternate Weeks)THE GUILD
WednesdayS
7.00am – 9.00am  –  OSCARE PRE-SCHOOL
9.00am – 1.30pm  –   CLARKSTON NURSERY GROUP
3.00pm – 6.00pm  –   OSCARE AFTER-SCHOOL
6.30pm – 7.45pm  –  3rd WILLIAMWOOD BROWNIES
7.30pm – 9.00PM  –   GUIDES
ThursdayS
7.00am – 9.00am  –  OSCARE PRE-SCHOOL
9.00am – 3.15pm  –   CLARKSTON NURSERY GROUP
9.45am – 11.45am  –  WILLIAMWOOD TODDLERS
3.00pm – 6.00pm  –   OSCARE AFTER-SCHOOL
3.30pm – 5.00pm  LEGO THERAPY (Ladies Choir Room)
6.30pm – 7.30pm – RAINBOWS 
7.30pm  –  CHURCH CHOIR (Session House)
7.30pm – WILLIAMWOOD PIPE BAND
FridayS
7.00am – 9.00am  –  OSCARE PRE-SCHOOL
9.00am – 3.15pm  –   CLARKSTON NURSERY GROUP
3.00pm – 6.00pm  –   OSCARE AFTER-SCHOOL
6.30pm – 7.30pm  –  128th BB ANCHOR BOYS
7.35pm  –  128th BB COMPANY SECTION
7.35pm  –  128th BB SENIOR SECTION (or as arranged)
SaturdayS
9.00am – 5.00pm  –  McCARTHY SCHOOL OF DANCE
To see the archive of previous photographs just follow this link

Our Mission
Our mission is to share the love of God through worship, outreach, welcome and care with people in our local community and across the world
Links to the Wider Church
What congregation are Saying
My wife Val and I joined Williamwood Church in 2012 and along with our two children, Andrew who's 11 and Shona who's 8, we are all involved with the life of the church here.
Andrew is at the Boys' Brigade, Shona is in the Brownies, Val is an elder and I'm part of the property team looking after things like fire safety and security.
We all enjoy being part of the family of Williamwood whether it's the services and Sunday School each week or the different special events like concerts, coffee mornings and trips.
It's great to be part of such a friendly group of people who are all working together to share the Good News and trying to make a difference for the better in our community.
As Session Clerk it is an honour to serve the Rev Jan Mathieson and sixty three Elders who diligently visit their district at least four times a year with an invitation to Holy Communion and also visit our organisations' twice a year. Contact me on  0141 321 8033, or e mail –             margaretctrobertson@gmail.com
I was baptised in Williamwood Church in 1981 and since then have been brought up to feel at home in the Church.  I went through all sections of the BB and am now an adult officer.  I started my piping career as a young junior section boy.  I am now an active elder of the Church, and would like to encourage people to attend and help it to continue to grow.