A TRIBUTE.........FLO SMITH
A TRIBUTE
Mrs Flora (Flo) Russell Smith nee McMurtrie   1909 – 2018
Flo Smith our loved and respected oldest member of our congregation died peacefully on 3rd August at the remarkable age of 109.
As was said during one of the tributes at her funeral service, Flo was an institution in her longevity and an inspiration to so many.  The following is an extract from the test of a motion submitted, in her honour, to the Scottish Parliament on 21st August: 'the parliament celebrates the life of Mrs Flora Smith, who passed away recently a thee age of 109 at Antonine House Care Home in Bearsden: acknowledges that Flo was Scotland's oldest lady, the oldest member of the Church of Scotland and the oldest surviving alumna of Hutchesons' Grammar School in Glasgow'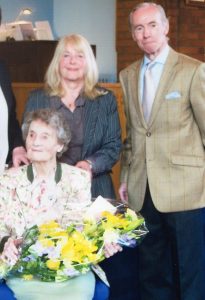 Flo was born on 21st April 1909 in Shawlands, the eldest of three daughters of Archie and Flora McMurtrie (nee Russell).  Grandfather, John Russell was a well known timber merchant who had two yards off Cathedral Street on sites now occupied by Strathclyde University.
Two aspects of early days stayed with Flo throughout her long life.  First of all her grandmother would take her to worship at services in Glasgow Cathedral.  She was to become fascinated by the history of this ancient building and for many years into her early 90's she was go serve as a volunteer guide, displaying considerable knowledge and enthusiasm when showing tourists and groups of schoolchildren around the Cathedral.
Secondly Flo was introduced to the Brownies which later, with the Girl Guides would become a lifelong interest.
Schooldays truly were happy times for Flo.  She just loved her time at Hutchie and if she was merely average by the high academic standards of the school, then she certainly shone on the sports field.  She was especially proud of her time in the hockey 1st eleven from the age of 15.
After school years, Flo had joined the large and well known local employer, Weirs of Cathcart.  She worked first as a secretary in the Marine Engineering Dept. And then as assistant to the head of publicity, a significant role, given that Weirs was a major engineering concern especially during the Second World War.
Away from work early Church life was important to Flo.  She was a faithful Sunday School Teacher for 10 years from 1927, when she became a member of the Church at Cathcart South.  Flo also took over as Captain of the 46th Girl Guide Coy at the same Church.
After life had returned to normality following the Second World Was, Flo met her beloved Alex and they were married in Glasgow Cathedral in 1948.  Married life began in Jordanhill where they were to stay for 10 happy years not least because son, Alastair was born here.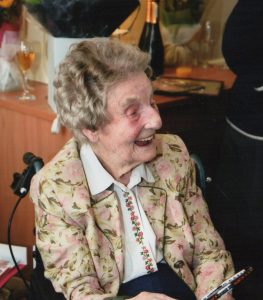 When Alastair reached school age, the Smith family made an inspired move to Steward Drive in Clarkston.  Inspired because this was the late 1950's and Steward Drive then was an incredibly neighbourly and family friendly place to live.  Flo and Alex were quickly to become faithful members of the congregation at Williamwood while Alastair attended Sunday School and went through various youth organisations.
One of the first things Flo did on arriving in Clarkston was to join the local tennis club and she continued to play tennis and other sports including badminton and curling with great enthusiasm until her late 80's.
After 50 years of happy marriage, husband Alex passed away in 1998 and although sadly Clarkston days were soon to be over, the Williamwood Church connection was a real blessing to Flo.
Flo moved to a flat in Netherlee and the high point of this period was to be a memorable 100th Birthday Party Celebration held in Pollokshields Burgh Hall with many dear friends from Williamwood Church among the guests.
In September 2010 Flo sponsored a successful and happy concert to raise funds for the Church.  The event reflected Flo's abiding encouragement of young people as the concert featured young talented performers, several of whom had been nurtured by Norah Gray at Williamwood over the years.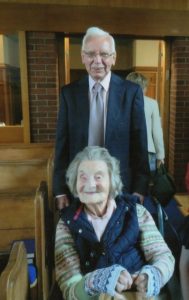 Also during this time at Williamwood, it was Flo who suggested 'Inspire' as the new title for the Church newsletter.
With much support from Alastair, Flo was able to remain at home until the age of 105.  In 2014 Flo reluctantly moved into Antonine House Care Home in Bearsden where her enthusiasm for life remained undimmed despite increased frailty.
In those later years Flo appreciated her Church life more than ever.  She was thankful to Rev. Jan Mathieson and Rev. Alastair Cherry for keeping her in their prayers in recent times and she was always extremely grateful to Rev. Iain Reid and right up until her final days to Rev. Eric McLachlan for wonderful pastoral visits.
Flo was blessed with attentive and caring elders, mostly notably Jim Rutherford , while Doreen Lynas through her kindness in arranging home visits had the fantastic foresight to ask Shena Dougall, some years ago if she would keep in touch with Flo.  Needless to say Shena went above and beyond with regular faithful visits including to Bearsden which led to a lovely late friendship with Flo.
Other true friends from Williamwood who visited and sustained Flo through recent birthdays and until the very end include Margaret Robertson, Angus and Sandra Fraser, Norrie Kilpatrick and Anne Hiddleston.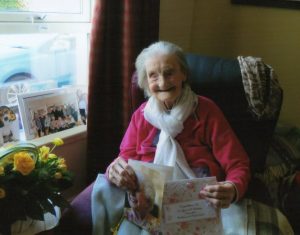 The Thanksgiving Service to celebrate Flo's life was held on 16th August in New Kilpatrick Parish Church and was conducted by Rev. Alan McCulloch, a relative on husband Alex's side of the family.
The service captured the essence and spirit of a wonderful lady and to all those steadfast friends from Williamwood who attended that day, Flo would have said a very heartfelt……. thank you, thank you!!