WILLIAMWOOD PARISH CHURCH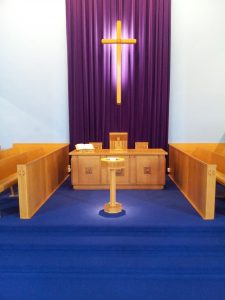 Between 1935 and 1937 the site was purchased and Williamwood Parish Church was built.  On June 28th 1937 there was a Service of Dedication and this was followed by the first service of congregational worship on Sunday 4th of July 1937.
From then until now Williamwood has seen many changes and has expanded to be the Church we know now.  It had
been suggested, but unconfirmed, that the architects were faced during the design process with a request to introduce a gallery, to provide additional seating accommodation, and to do so without any alteration to the originally agreed budget.  The result of this additional design imposition might account for the very basic interior finishes in the completed new building however this only served as a challenge to future generations to enhance a well proportioned, if basic, design, which has in the main been achieved.
Over the following decades many people have contributed to the Church and there have been a quite few changes to the building structure as well as the installation of several Memorial Windows, Decorative Glass Panels, The Allen Organ and the Memorial Choir Stalls to name but a few.
In 1996 / 1997 there was a 5 year phased "in house" modernisation programme started which included additional toilets and storage as well as access for the disabled and the introduction of the intimate Iona Chapel.
Since then there has been an ongoing maintenance programme to keep the building in good repair, where many volunteer members of the congregation have given their time and expertise to maintain and enhance the Church to make it what it is today.
In 2018 we had a new state of the art heating system installed ensuring that all the users of the Church and halls can be assured of a warm welcome.
There have also been many celebratory events held during the life of the Church; The Semi Jubilee in 1962, The Golden Jubilee in 1987, 75th Anniversary and the most recent 80th Anniversary celebrations of the Church in 2017
Williamwood Parish Church continues to provide the Parish community and beyond with a mature focus for Sanctuary worship and study, significant adult and youth involvement, together with local, national and overseas initiatives.  No doubt there will be many challenges ahead for the congregation and the Parish to face in the future, and that following the legacy of the original members in 1937 will be continued.
THE MINISTRY'S OF WILLIAMWOOD PARISH CHURCH
The Rev. Daniel Patterson, M.A 1937 to 1941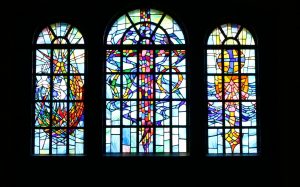 The Rev. J. Stanley Pritchard, M.A. 1942 to 1949
The Rev. Colin Campbell, M.A. B.D. 1949 to 1990
The Rev. G. Hutton B Steel, M.A. B.D 1990 to 2006
The Rev. Iain M. A. Reid B.D. 2007 to 2014
The Rev. Janet Mathieson 2015 – Present