WILLIAMWOOD SUNDAY SCHOOL ON THE WEB
Sunday 28th June, 2020
Everyone is welcome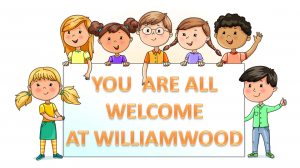 Reading: Matthew 10:40-42
Welcome
Imagine if someone new came to your Church.  How might you make them feel welcome?
"Say Hi" said Lewis.
"Say hello and tell them your name" shouted Kieran.
"You could shake their hand" said Nathan.
"Or, give them a hug" said Callum.
"Maybe you could do all of that, and then ask them around to your house to play? That might make them feel really welcome" said Aiden.
"Maybe you could also tell them what other things happen in Church" said Kirsten.
"Or invite them to the BB, or Brownies or Guides, that would be a way to show they are welcome at other things too" shouted Richard.
"Or, find out if they are going to your school and you could show them around and introduce them to some of your friends" remarked Logan.
"Why not ask them just to be your friend, like Jesus did?" said Iona.
"Yes" said Lorna. "They should definitely be told that Jesus loves them."
Can you think of any other things you could do to make people feel welcome?
Prayer from Spill the Beans

Jesus says: "Welcome, all are welcome."
That includes me and you and everyone.
Really God? Me? And everyone? Even them?
Thank you, God, that you welcome us all.
Thank you that you love each of us, every one of us.
You are truly awesome.
Your love is awesome, making me awesome.
Thank you, God.             Amen.
Things to do
Welcome banner
Take A4 sheets of paper and write one letter of the word "Welcome" on each sheet of paper. Colour the letters in and make it look bright.  Get some blue tac and attach the sheets to a door or a window in your house.
Having a welcome party
Think about how you would organise a party when we can all see each other again. How you would invite everyone, make a list of who you would invite, what would you have for everyone to eat and drink, what games you would play, what music would you play, would you have the party inside or outside. Write all your ideas down so that when you can meet up with everyone again, you can go ahead with your party.
All are welcome
Find out what the words are for "Welcome" in other languages.
Love from

 Your Sunday School Leaders and the Minister at Williamwood Church